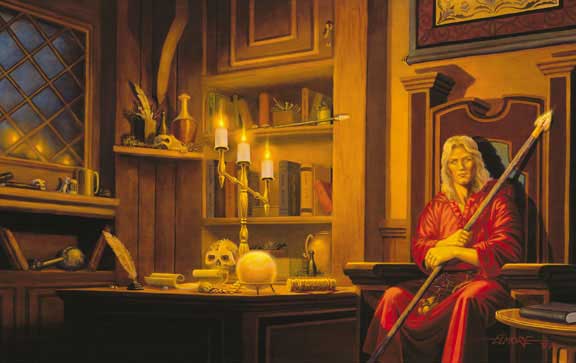 The following is an excerpt from The Lost Chronicles Interview, Part Two

Dragons of the Cineplex

In the fall of 2007, Dragonlance fans both old and new can turn their own eyes toward the big screen -- Dragons of Autumn Twilight will be a full-length animated feature from Paramount Pictures.

Directed by Will Meugniot (the animated X-Men TV series, The Real Ghostbusters) with a screenplay by George Strayton (Hercules: The Legendary Journeys, Xena, Warrior Princess, Cleopatra 2525), the film will, according to co-executive producer Cindi Rice, remain true to the book, ensuring fans the best dragon for their buck. Among the voice talent announced to date: Kiefer Sutherland (Jack Bauer on 24) as Raistlin, Michael Rosenbaum (Lex Luthor on Smallville) as Tanis Half-Elven, Lucy Lawless (Xena, Battlestar Galactica) as Goldmoon, and Jason Marsden (The Fairly Oddparents) as Tasslehoff Burrfoot. Most of the voice recordings are finished and storyboards are underway. Rice tells Sci Fi Wire, the website from the Sci Fi Channel, that the film will "combine traditional 2-D animation and computer-generated 3-D elements." The final cut is expected to run between 90 and 100 minutes and, pending the MPAA review, have a PG-13 rating.

Margaret and Tracy have been heavily involved in this project, right down to character accents. "We are most excited," Tracy says. "It's shaping up in very interesting ways."

Fans can keep up with the latest developments on an excellent website devoted exclusively to the upcoming film: www.dragonlance-movie.com.

You read it people Kief will play Raist, and i cannot think of anyone better for it.